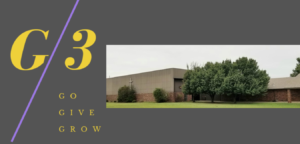 G/3 Capital Campaign
Go: Deuteronomy 28:8 – See, I have given you this land. Go in and take possession of the land the Lord swore he would give to your fathers.
Give: 2 Corinthians 9:6 – Remember this – a farmer who plants only a few seeds will get a small crop. But the one who plants generously will get a generous crop.
Grow: Isaiah 54:2-3a – Enlarge the place of your tent, stretch your tent curtains wide, do not hold back; lengthen your cords, strengthen your stakes. For you will spread out to the right and to the left;
What?
$150,000 Towards the Purchase of 19,000 Square Feet of Facilities on 6.4 Acres/Ministry Campus
When?
Why?
In 2020, the Remnant Church will celebrate five years of ministry. In those first four years we have been small in number but great in our ability to give, go, and to grow the kingdom of God and reach out to our community. To date, Remnant Church has provided over 900backpacks and school supplies to children in the greater Oklahoma metropolitan area, provided more than 900 meals, and helped many others through tangible methods to included personal crisis assistance, utilities, housing, and clothing.
Remnant Church began as a bible study in the home of Anthony and Ashley Herron. After much prayer and searching, a leased facility was located in Southeast Oklahoma City in July 2015. Improvements were made and the sanctuary was fully furnished debt free after being blessed by Pastor Gary and the Hope Church in Van Buren, Arkansas with more than 150 chairs, audio/visual/video equipment and other items that were helpful in launching the ministry. Remnant Church held its first worship service on October 4th, 2015 with more than 46 people in attendance from more than four states. Remnant Church started with four families to include four married couples and six children. Remnant Church continues to grow and to reach our community with the Gospel and love of Jesus Christ.
Remnant Church has been inspired by the Holy Spirit to declare 2020 as the Year of Growth. God is expanding our territory and enlarging our capacity to reach more people with the Gospel of Jesus Christ, to feed more people, and to help more people. God's requirements of us are simple: Go, Give, and Grow. Trusting in God, the Remnant Church is launching the G/3 Capital Campaign as we seek to walk in the steps that God has ordained for us. A God opportunity is before us to purchase a ministry campus from another ministry on 6.4 acres with close to 19,000 square feet of facilities to include a worship center, fellowship hall, offices, classrooms, youth areas, storage building, and land with room to continue to build and to grow.
How?
Remnant Church
G/3 Campaign
Oklahoma City, Oklahoma 73129
CashApp: $RemnantChurchOKC
Text to Give:

To: 715-803-4772

Message: 4867204